Music views, news and reviews for Surrey and Metro Vancouver. Email me with story ideas and tips, tom.zillich@surreynowleader.com.
For fun, I searched "Surrey" on Spotify and found a few tunes I didn't know about (many, many versions of "The Surrey With the Fringe on Top," originally from the 1943 Rodgers and Hammerstein musical Oklahoma) or hadn't heard in a long time (Melvin Midici's hilarious "Surrey Theme Song," from 2019; read more about that one on surreynowleader.com).
New to me was a live recording of City and Colour at Surrey's Bell Performing Arts Centre. Back in April 2017 Dallas Green did an acoustic set at the theatre with backing musician Matt Kelly, and one of those songs, "Friends," ended up on the following year's live album, Guide Me Back Home, which includes 20 tracks recorded at halls across Canada.
Before he starts singing in that great, high voice of his, Green introduces "Friends" with a funny story about his day at the Bell, located inside Sullivan Heights Secondary, where he wanted to check out the theatre's balcony, walked through the wrong door and ended up trapped in the school hallway.
"I realized I was no longer the guy playing here, I was the old bearded man with tattoos on his neck out in the highschool," he says as the crowd laughs. "I can see how that might have been frightening to certain people, you know?"
Someone eventually let him back inside the theatre, but Green never did get to see the stage from those balcony seats.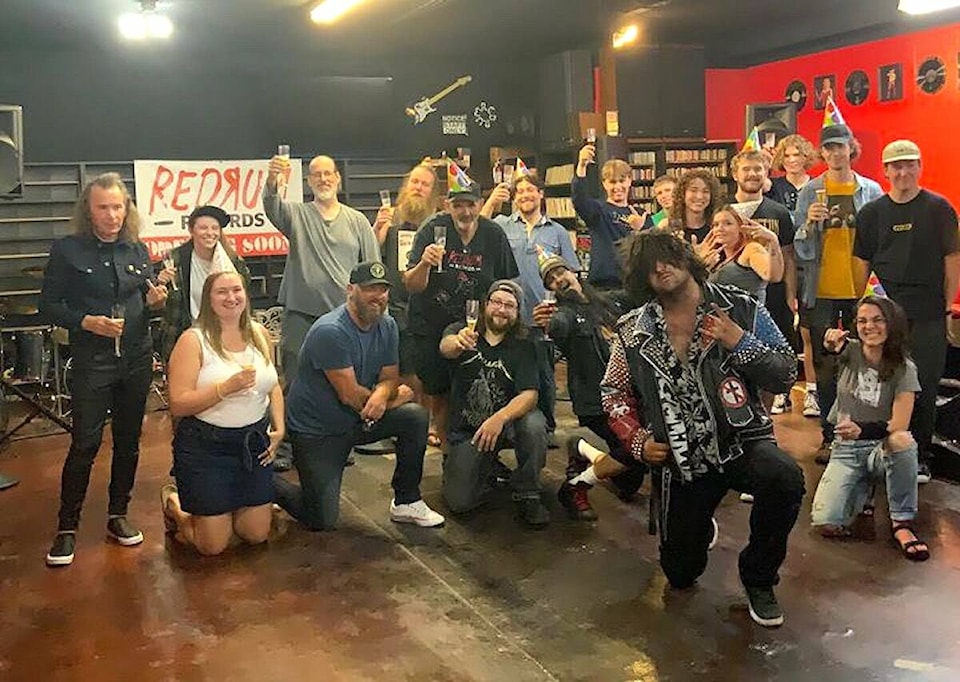 REDRUM REBOUND
Local vinyl-loving music fans will be sad to learn that Cloverdale's Redrum Records has closed, after blowout party last week (judging by photos on Facebook). The shop on 176 Street was a great place to dig through bins and find cool T-shirts.
On the bright side, store operators say they're going to give "extra love and all our time and energy" to the White Rock location (actually South Surrey, 1990 152 St.), to boast "a bigger and better selection of Vinyl and CDs than we've ever had," according to an email sent to Redrum customers.
"We've also added a stage and will be focusing on building a venue for music lovers and performers to come together as a community," the post continues.
The shop's first open-mic night is Monday, Sept. 11. Entry is free for all ages, and sign-up starts at 6 p.m. for the 7 p.m. show. Also scheduled there is a concert by U.K. punk band Strawberry Blondes on Oct. 14 (tickets available at the store).
While you're at it, check out Redrum's Now Hear This music blog on redrumrecords.ca, with diverse posts focused on Taylor Swift, Alice in Chains, the "Barbie" movie soundtrack, The Smiths and more.
SWIFT LIFT
Still sad that Taylor Swift isn't coming to Vancouver on her concert tour, or missed her in Seattle? Next best thing is a concert film in a nice theatre, right? At least Swifties can look forward to the Sam Wrench-directed "The Eras Tour" movie, set for release next month.
The two-hour, 45-minute film will be shown in Surrey at the Strawberry Hill Cineplex starting Friday, Oct. 13, in full-recliner comfort, with dates stretching into November. Search for tickets on cineplex.com, where the trailer and more details are posted.
BROKOP CONCERTS
When I caught up with Lisa Brokop a month ago, the Surrey-raised, Nashville-based country singer talked about doing some concert dates at Langley's The Bunkhouse Bar, located in the events room at George Preston Rec Centre, under The Lodge Steakhouse.
Those dates are now confirmed, with Brokop and husband Paul Jefferson performing there Saturday, Oct. 14, followed the next night by their tribute shows, The Patsy Cline Project (Brokop) and Hank Lives! (Jefferson). Also booked at the bar is Brad Lovell's new Bruce Springsteen tribute show, Dead Man's Town, Sept. 15. Details on thefairhavengroup.com/events.
SHAKEDOWN FOR STEFANI
Over on Vancouver Island, Lake Cowichan's Laketown Shakedown concerts are held at the end of June every year, with alt-rock, hip-hop and pop on the start-of-summer calendar (Shaggy, Aqua and Third Eye Blind were among 2023 highlights). Festival organizers have already announced next year's headliner, and she's Gwen Stefani. No doubt, it'll be a good one. First-tier tickets went on sale Aug. 29 at laketownshakedown.com.