Surrey's Guru Nanak Gurdwara president Hardeep Singh Nijjar is not the first man to have been slain in the Sikh temple's parking lot.
Police were called to the parking lot of the temple, in the 7000-block of Scott Road in Newton, at 8:27 p.m. Sunday and found 45-year-old Nijjar in his truck, suffering from gun shot wounds. He died at the scene.
The Sikh Community of 'BC'/Salish Land has claimed Nijjar's assassination was an "act of Indian government-orchestrated terrorism on Canadian soil" and @BC Sikhs tweeted that "What happened today is an act of war on Sikhs."
At a press conference Monday neither Surrey RCMP Assistant Commissioner Brian Edwards or IHIT spokesman Timothy Pierotti commented on claims from some Sikh organizations that the murder was "orchestrated terrorism" by the Indian government.
"We understand there is a lot of speculation as to the motive of this homicide but we are dedicated to learning the facts and letting the evidence lead our investigation," Pierotti said.
But a close associate of Nijjar said his friend was warned by Canadian intelligence officials about being targeted for assassination by "mercenaries" before he was gunned down. New York-based lawyer Gurpatwant Singh Pannun stated he spoke with Nijjar by phone the day before he was killed.
Pannun says Nijjar spoke about an unofficial Khalistan referendum vote seeking a separate Sikh state they had been organizing, and threats to their safety related to a reward being offered by the Indian government for Nijjar's apprehension.
He says Nijjar told him "gangsters" said they were both on a hit list, and that Nijjar received a call days later from the Canadian Security Intelligence Service warning that his life was in danger.
Asked if police knew of threats against Nijjar, Edwards declined to comment, adding the fact the murder happened at a place of worship has instilled fear in some members of the Sikh faith.
"I am absolutely appalled that this would take place in a house of worship in the City of Surrey, or anywhere for that matter. As a community, neither the police nor the residents will stand for it.
Twenty five years ago, Nirmal Singh Gill, a 65-year-old temple caretaker, was beaten to death in the parking lot during his late-night watch on Jan. 4, 1998. Five young men who had ties to a neo-Nazi group called the Hammerskins were arrested for second-degree murder but pleaded guilty to manslaughter. Two were sentenced to 18 years in prison and the other three were each sentenced to 15 years in prison.
Likewise to Gill's killing, Nijjar's murder has hit the Sikh community hard, with hundreds of mourners gathering in vigils this week.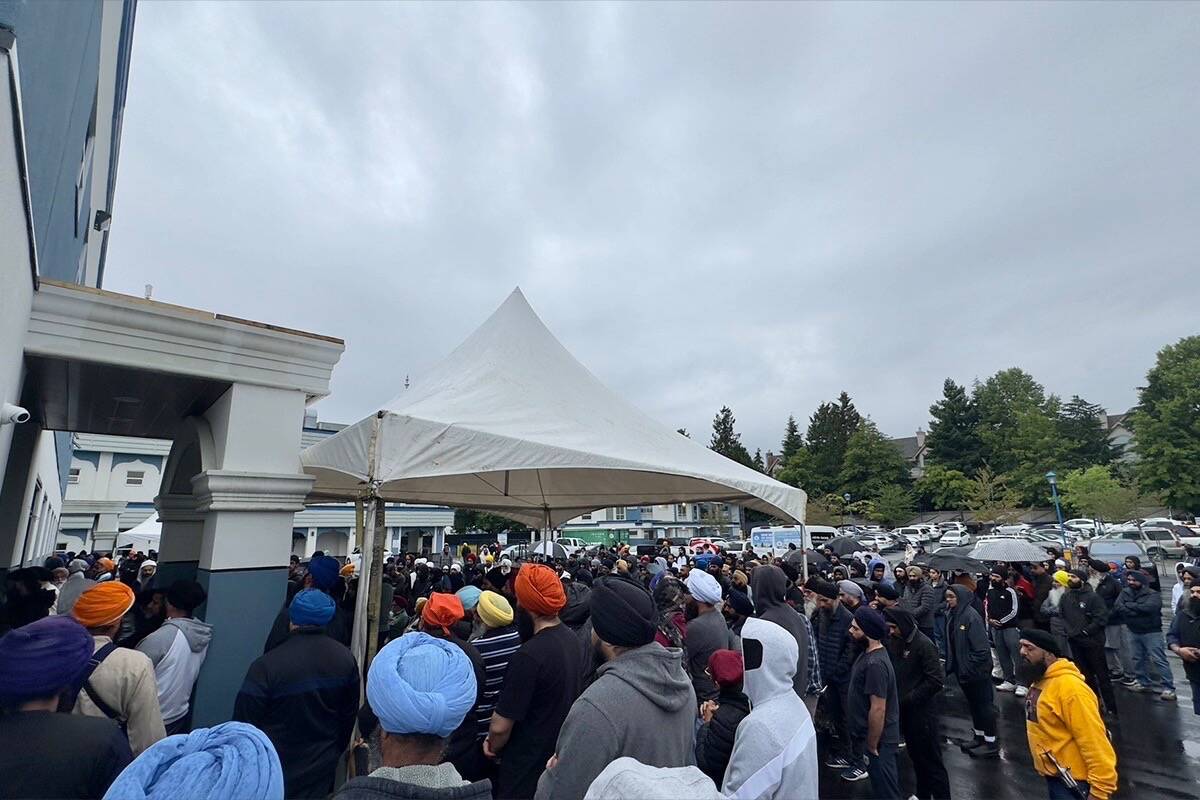 "This was a shocking and very public act of violence against a well-known community member and a Gurdwara president," Edwards remarked. Victim Services is being offered to those affected, he added.
Surrey Mayor Brenda Locke addressed the "shocking and disturbing act of violence" at Monday night's council meeting.
"That absolutely has no place in our community and I know the police are working diligently to find those responsible for the horrific act that happened and so on behalf of Surrey council I send our deepest condolences to Mr. Nijjar's family, the Guru Nanak Sikh Gurdwara and our Sikh community during these extremely difficult times," Locke said.
A car was found on fire in Coquitlam shortly after the shooting and IHIT is working with the Coquitlam RCMP to see if this is linked to Sunday's shooting.
The president of one of Canada's most prominent places of worship, a BC registered non profit society, was assassinated in broad daylight yesterday. This was an act of Indian government-orchestrated terrorism on Canadian soil.@csiscanada @AnitaAnandMP @melaniejoly

— The Sikh Community of 'BC' / Salish Land (@BCSikhs) June 19, 2023
Surrey RCMP Staff Sgt. Tyner Gillies said police are looking for video footage.
"At this early stage of the investigation, any possible motives for the shooting are not yet known. Police are still working to determine possible suspect descriptions from multiple witnesses who were in the area," Gillies said.
IHIT is asking anyone with information or dash-camera video who was in the area of 122 Street, or who was in the parking lot of the Gurdwara, to call the IHIT Information Line at 1-877-551-IHIT (4448) or contact police by email at ihitinfo@rcmp-grc.gc.ca.
– with files by Canadian Press and Sobia Moman
---

tom.zytaruk@surreynowleader.com
Like us on Facebook Follow us on Instagram and follow Tom on Twitter