Metro Vancouver mayors are calling on the federal and provincial governments to commit to new funding for public transit as housing targets are expected to make ridership surge.
TransLink's Mayors' Council on Regional Transportation warned the governments that the system's overcrowding is "rapidly worsening" and without new funding for public transit expansions, it will make it difficult for local governments to expand housing in communities as quickly as needed.
By 2025, data from TransLink shows that almost four-in-10 rush-hour bus trips "will be severely overcrowded, leaving tens of thousands of commuters every day watching full buses pass them."
The warning came Tuesday (Sept. 19) during the Union of BC Municipalities annual convention in Vancouver.
Mayors' council chair Brad West said the region's population is growing at a record pace while the housing affordability crisis deepens.
"As mayors, we are concerned that any delays in expanding transit service will make it very difficult for city councils and builders to expand housing in our communities as quickly as is needed. The window for the provincial and federal government to take action is getting very small," said West, who is also the mayor of Port Coquitlam.
TransLink says transit service was frozen at 2019 levels due to the COVID-19 pandemic, but the region's population has grown by more than 200,000 people since then. An additional 50,000 people are expected to move to the region every year.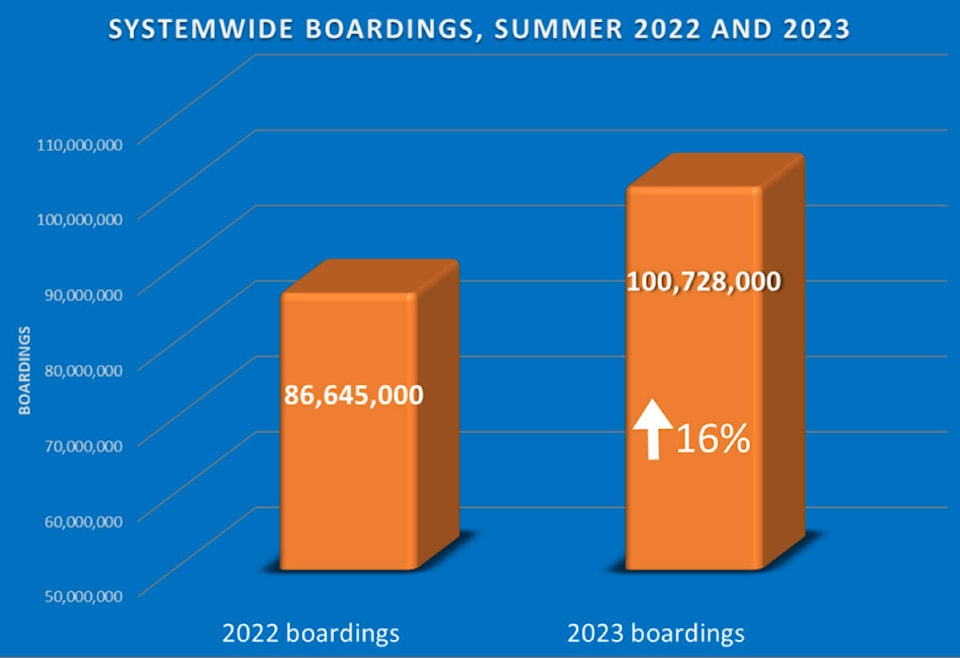 According to the authority, the summer of 2023 saw 14 million more boardings than the previous summer – a 16-per-cent increase.
The mayor's council is in the process of finalizing projects and initiatives for TransLink's new "Access for Everyone" plan, which the transit authority says will need funding commitments "no later than June 2024 to stay on track to begin expanding transit service in late 2024 in line with population growth and to support new housing targets."
READ MORE: Crowding on buses getting worse as transit use spikes in Langley-Surrey area
TransLink CEO Kevin Quinn said the plan would support strong growth, "while tackling issues of affordability and supporting provincial and federal climate goals."
In communities like Surrey and Langley, transit ridership is at 120 per cent of pre-COVID levels, with some routes in the cities seeing ridership levels more than double in the past four years.
Work is currently underway on the Surrey-Langley SkyTrain extension, the first SkyTrain expansion south of the Fraser in more than 20 years.
READ MORE: With SkyTrain coming, Surrey community groups push for balance between development, amenities