Staffing and programs may be at risk in the Surrey school district. That's due to the amount of funding being allocated to portables to help deal with increasing enrolment, according to the school board.
Many schools in the district are slated to increase in the number of portables on-site in September, while some will get their first batch next school year, and others will be using fewer of the temporary classrooms.
At the end of the last school year, the district was using 310 portables. That figure will rise to 335 starting September and, based on further projections, will increase again the following year.
"Based on population estimates from both the provincial government and the City of Surrey, it's clear that enrolment will continue increasing at a rapid pace in almost every school community in our district," said Mark Pearmain, superintendent of the Surrey School District.
Of note are some South Surrey/White Rock schools, including Grandview Heights Secondary, which is the newest high school in the district. It opened in September 2021 and, just two years later, will get eight portables for the 2023-24 school year.
Another example in the area is Edgewood Elementary, which has been using seven portables. That number will more than double in the fall, with the elementary school slated to have a total of 15 portables.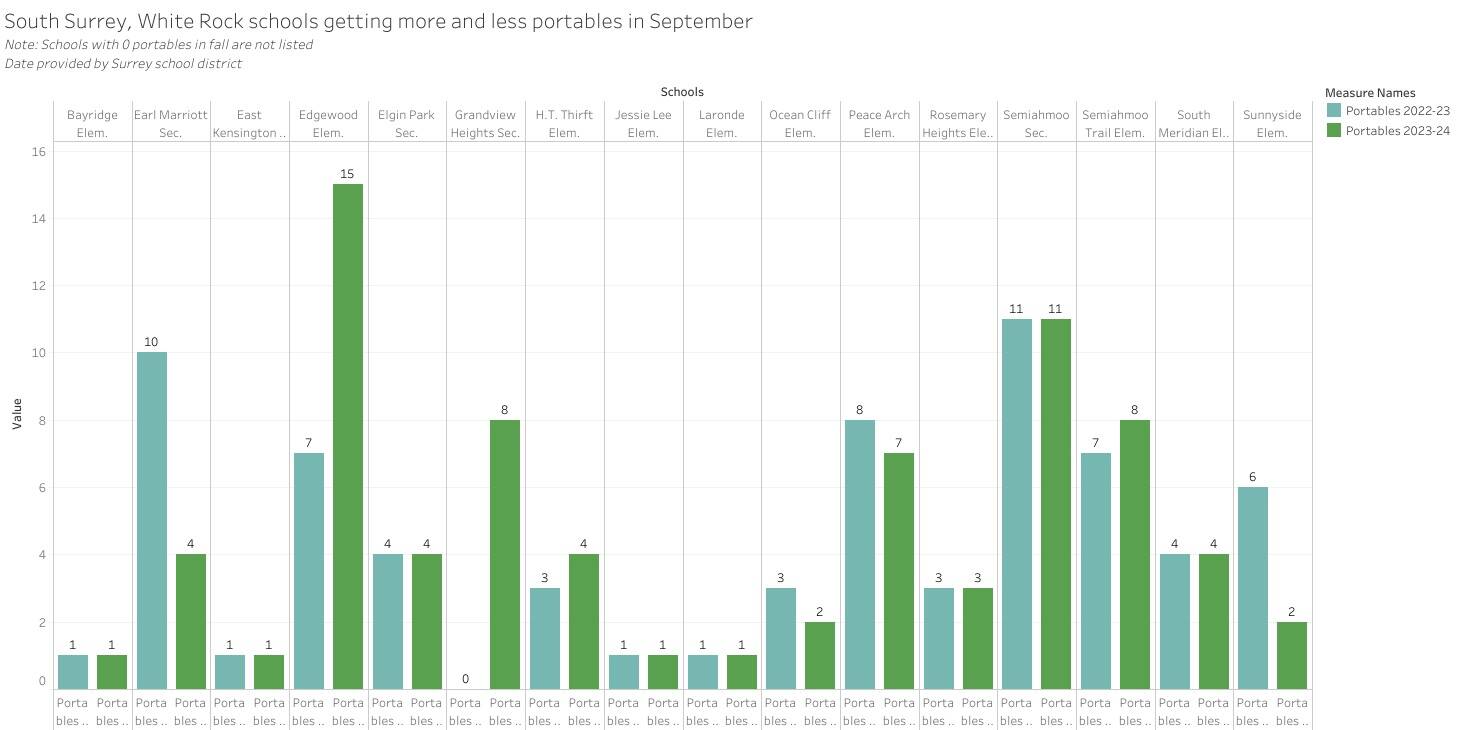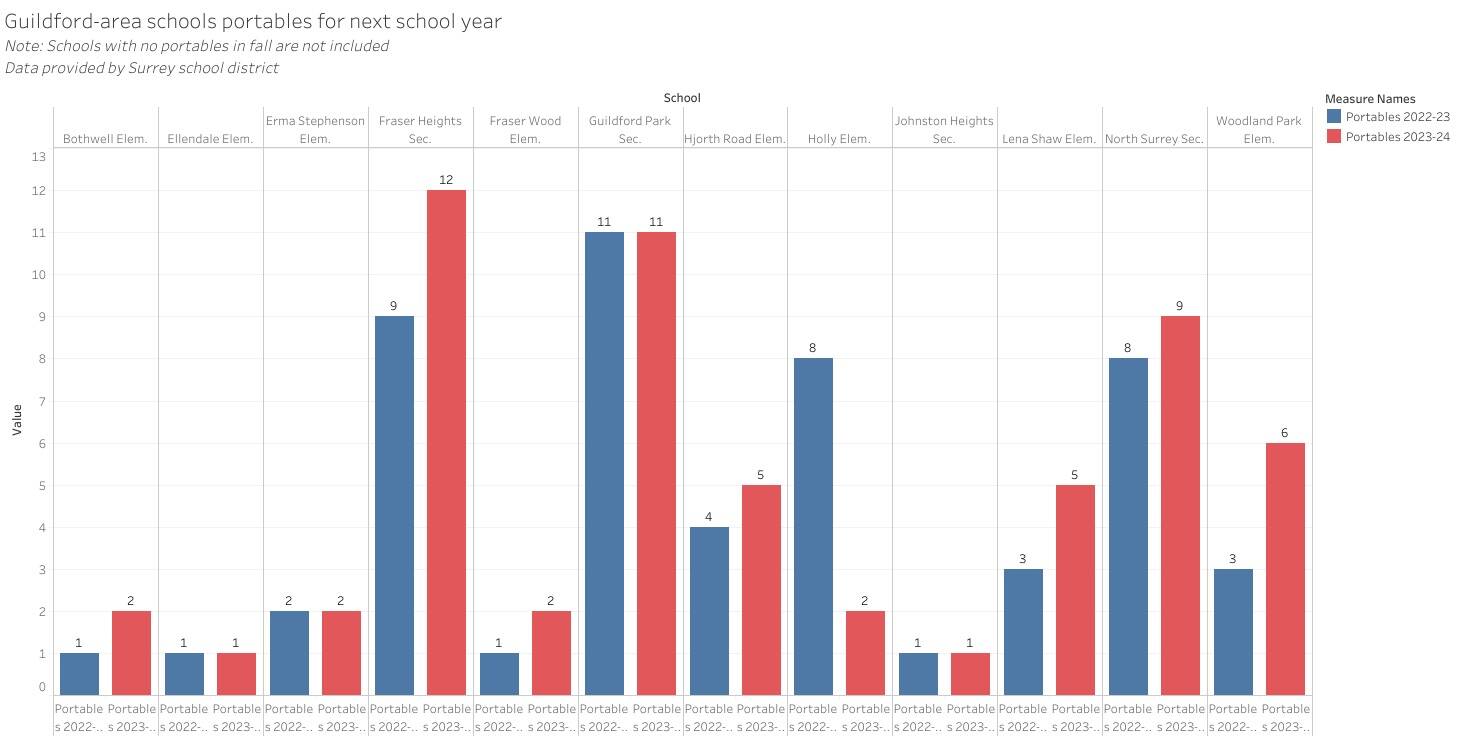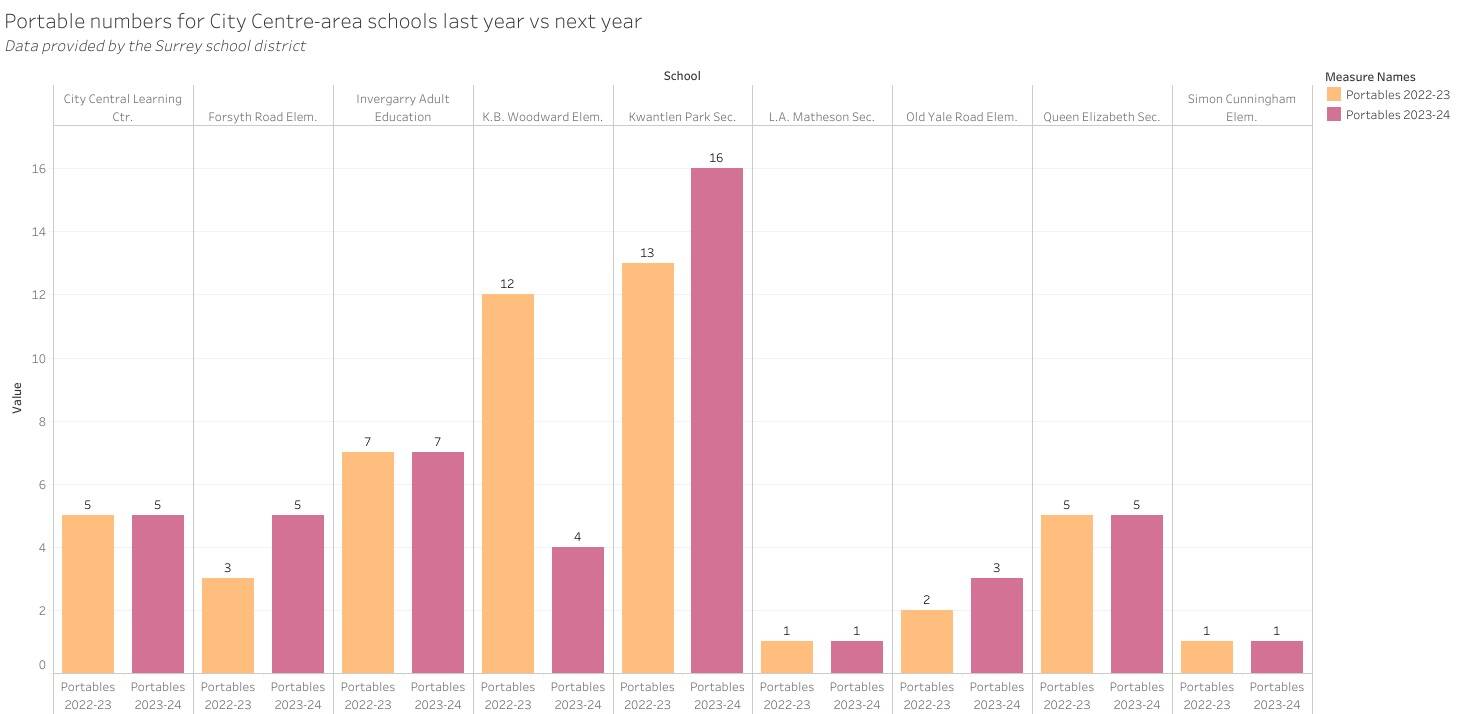 "Having multiple portables at each school affects communal school spaces like gyms and libraries. These are now being shared by a greater number of students – far more than was ever anticipated when these schools were built. This affects the time allotted to each class," said Laurie Larsen, chair of the Surrey school board.
"And because we need to use outdoor spaces for these portables, elementary play areas and our parking lots are also affected. Our staff and secondary students are having to park on residential streets, which has created additional challenges in some neighbourhoods."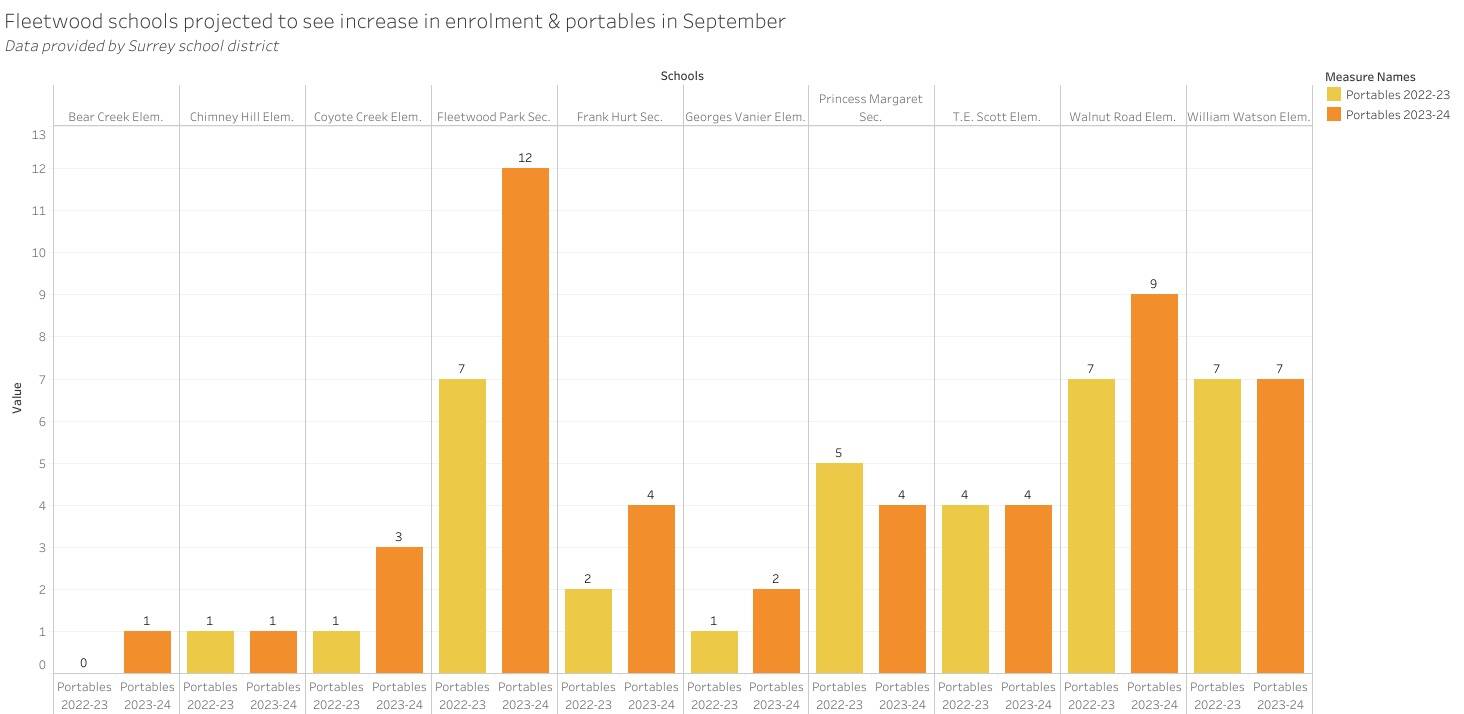 Although some schools have benefited from additions and a couple of new schools have been built in recent years, the number of portables in total throughout the Surrey district is increasing, according to School District No. 36 data.
"This past June, we submitted our annual capital submission to the Ministry of Education and Child Care outlining additional projects that we feel are a priority to address our capacity needs, including 10 new schools and 17 additions to existing schools," Larsen said.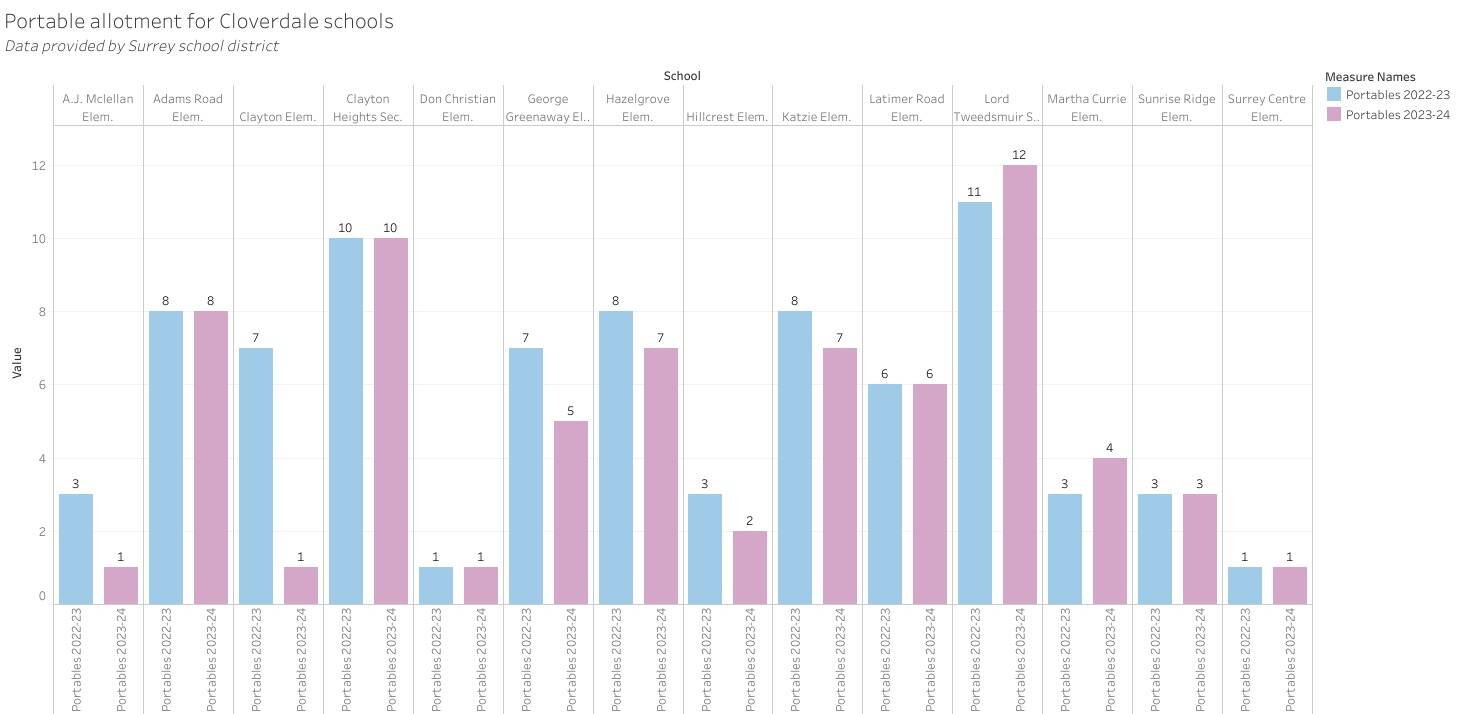 Moving and setting up the portables at their new locations cost more than $5 million, Pearmain shared. The funds came out of the city's public schools' operating budget. The district is working to purchase an extra 35 portables for the 2024 school year, the superintendent added.
"Portables are not a simple solution. We need long-term, sustainable solutions for our community," Larsen said.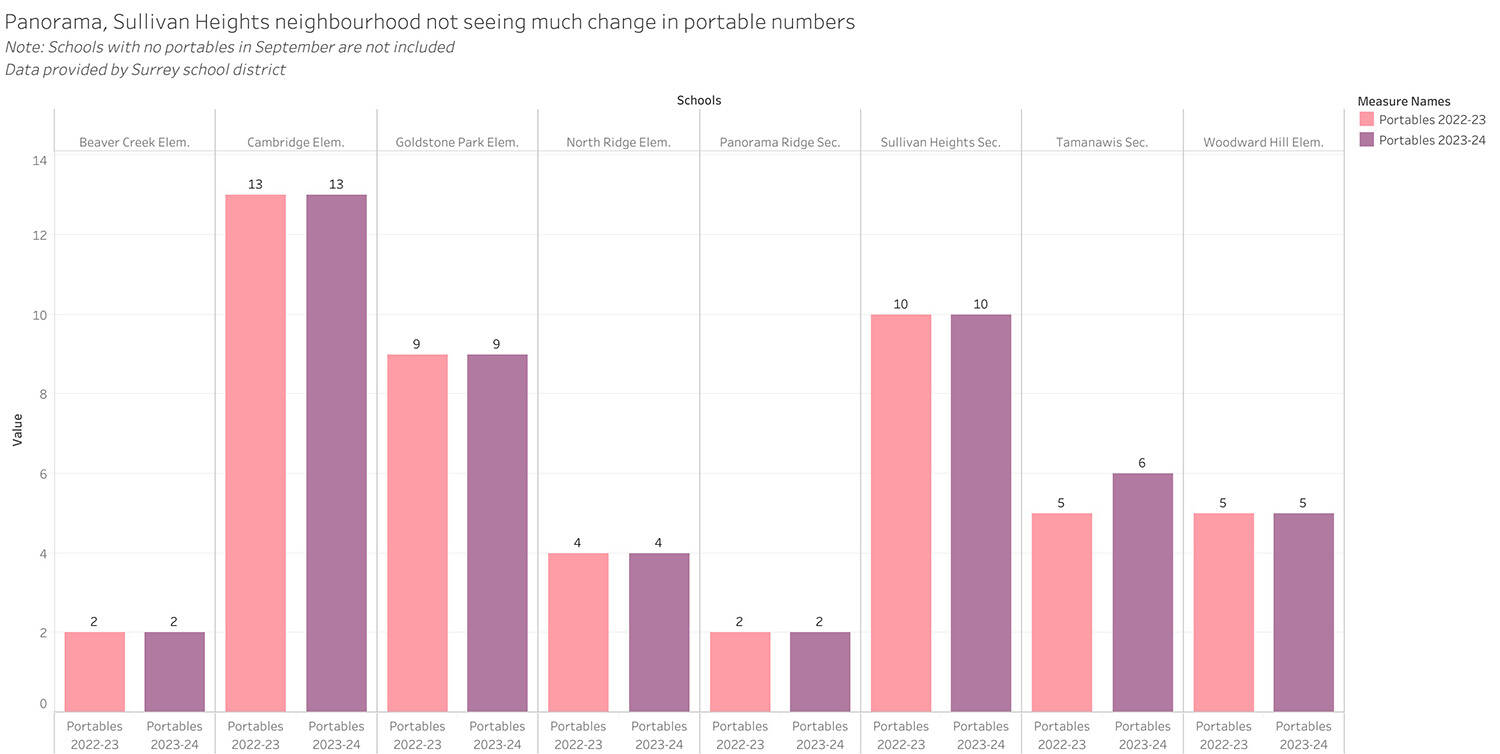 "The two biggest challenges that our board is facing this September are space and cost. We may have to make some very difficult decisions about staffing and programs and services."
---
@SobiaMoman
sobia.moman@peacearchnews.com
Like us on Facebook and follow us on Twitter.