COMMUNITY CHARTER S.B.C. 2003 CHAPTER 26
NOTICE OF INTENTION TO SELL CITY LANDS
Pursuant to Sections 26 and 94 of the Community Charter S.B.C. 2003, Chapter 26, as amended, the City of Surrey hereby gives notice of the intention to dispose of the following City lands:
A +/- 749.58 m² (8,068.44 ft.²) City property described as:
Parcel Identifier: 005-208-726
Legal Description: Lot 106 Section 24 Block 5 North Range 2 West New Westminster District Plan 54581 Except Plan EPP84206
Civic Address: 10522 - 140B Street
Property Description: The City property located at 10522 140B Street is surplus to the City's requirements and will be consolidated with the adjacent properties.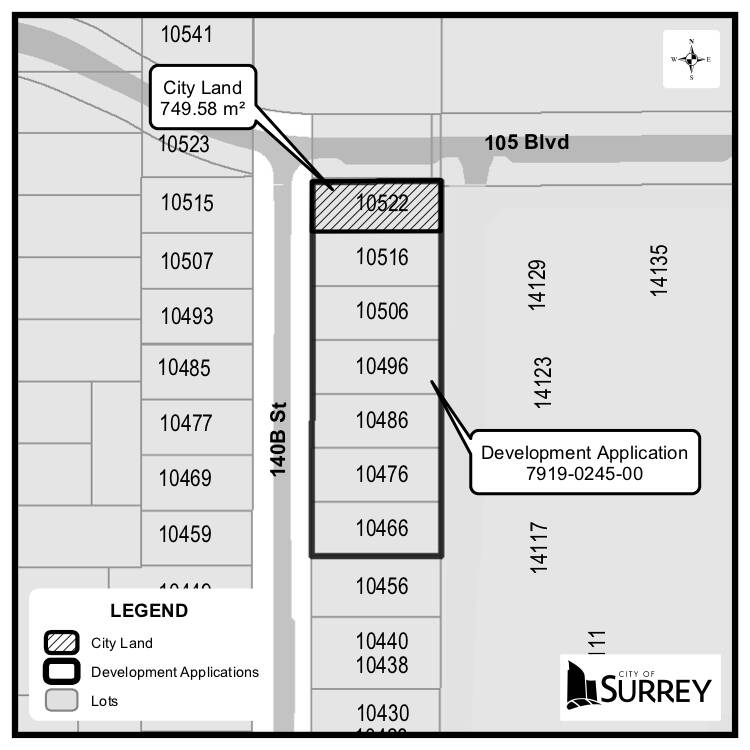 Purchaser: 1162538 B.C. LTD.
Nature of Disposition: Fee Simple
Selling Price: One Million Seven Hundred Thirty Thousand Dollars ($1,730,000)
Further information can be obtained from the City of Surrey, Realty Services Division, Engineering Department, 13450 – 104 Avenue, Surrey, BC V3T 1V8. Phone (604) 598-5720
THIS ADVERTISEMENT IS FOR THE PURPOSE OF PUBLIC DISCLOSURE ONLY, NOT SOLICITATION OF AN OFFER