NOTICE is hereby given that the Council of the City of White Rock will hold an opportunity for public participation for a Public Hearing on MONDAY, JULY 24, 2023, at 4:00 P.M. in accordance with the Local Government Act and the Planning Procedures Bylaw. All persons who deem their interest in property is affected by the proposed bylaw / application shall be afforded an opportunity to be heard in person or by forwarding written submissions reflecting matters contained in the proposed bylaw / application that is the subject of the Public Hearing. At the Public Hearing, Council will hear and receive submissions from the interested persons in regard to the bylaw / application listed below:
BYLAW 2439: White Rock Zoning Bylaw, 2012, No. 2000, Amendment (CD-68 – 14937 Thrift Avenue and 1441, 1443-45, 1465 Vidal Street) Bylaw, 2022, No. 2439
CIVIC ADDRESS: 14937 Thrift Avenue and 1441, 1443-45, 1465 Vidal Street (See Site Map)
PURPOSE: A bylaw to amend the White Rock Zoning bylaw to rezone four properties from the 'RS-1 One Unit Residential Zone' and the 'RT-1 Two Unit (Duplex) Residential Zone' and the 'CD-32 Comprehensive Zone' to the "Comprehensive Development Zone (CD) 68" to enable a proposed multi-unit residential project that consists of purpose-built rental and affordable housing apartments ranging from studios to 3-bedroom units to be built.
The proposed application and associated reports can be viewed online on the agenda and minutes page of the City website, www.whiterockcity.ca, under Council Agendas, from July 11, 2023 until July 24, 2023. If you are unable to access the information online, please contact the Corporate Administration department at 604-541-2278, between the hours of 8:30 a.m. and 4:30 p.m., or leave a voicemail and staff will ensure you have the information made available to you.
ADDITIONAL INFORMATION
Further details regarding the subject of the Public Hearing may be found online at whiterockcity.ca/ agendas. Contact the Planning and Development Services Department for any questions regarding this application: 604-541-2136 | planning@whiterockcity.ca
VIEW THE PLANNING REPORT, BYLAWS AND RELATED DOCUMENTS
Online at whiterockcity.ca/agendas
SITE MAP: 14937 Thrift Avenue and 1441, 1443-45, 1465 Vidal Street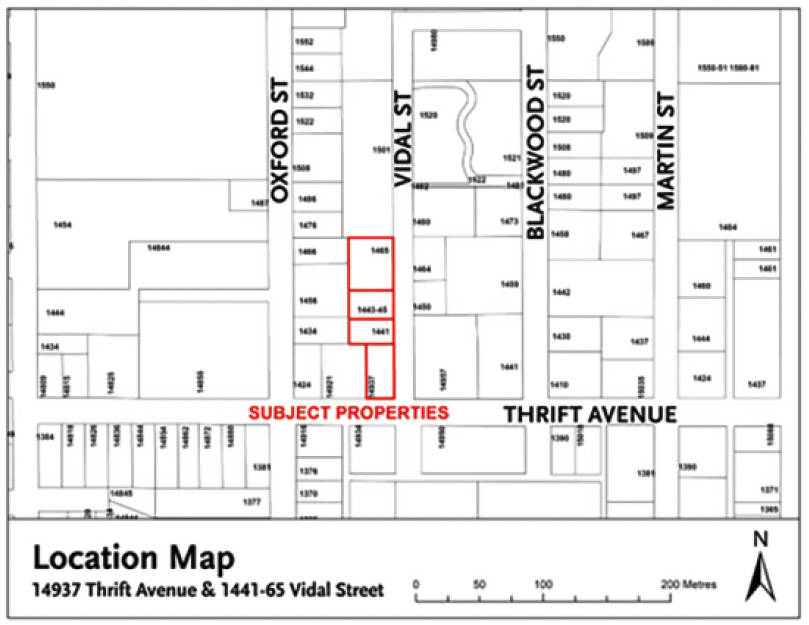 SUBMIT YOUR COMMENTS
Email: clerksoffice@whiterockcity.ca with "Bylaw 2439" noted in the subject line
Mail: City Hall at 15322 Buena Vista Avenue, White Rock, V4B 1Y6 All submitted comments will be distributed to Council and must be received by 12:00 p.m. noon on the day of the Public Hearing.
In Person: Attend in person at City Hall Council Chambers (15322 Buena Vista Ave.)
WATCH THE PUBLIC HEARING
Live online or view the video the following day at whiterockcity.ca/agendas