Fifty years ago this summer, some Whalley-area kids made Surrey baseball history when they went to the Little League World Series (LLWS).
Those 1973 Canadian champs were the very first from the Whalley association to rep the country at the 40,000-capacity Howard J. Lamade Stadium in Williamsport, PA, where five others followed over the years.
This summer, the team's 50th anniversary is reason to celebrate for Whalley Little League, set to host an alumni game June 9 and closing ceremonies involving the 1973 squad on June 17.
Over the years Whalley has sent six teams to the LLWS, first in 1973 and then 1978, 1997, 2005, 2006 and 2018.
The kids of '73 are now close to retirement age, or already there.
"The experience (at the Little League World Series) was surreal, a bit of a dream," Terry Scramstad, 63, said in a phone call. "It was a big dream to get there, and I don't think too many of us expected to get that far. We just worked hard to make the ball team and worked hard to see how far it got us, which was pretty darn good that year."
Catcher on the team, Scramstad is now a retired welder who moved from Surrey to Penticton four years ago, in 2019.
He's stayed in touch with a few buddies who also played ball that year, including Corey Jacobsen and Jerry Atamanchuk. Others on the 14-player team were Duncan Cowie, Stuart Finley, Terry Hamalainen, Bart Van Nus, Glenn Oster, Kevin Pearce, Philip Nielsen, John Olson, Dean Nociar, Jerry Anderson and Jim McLaughlin.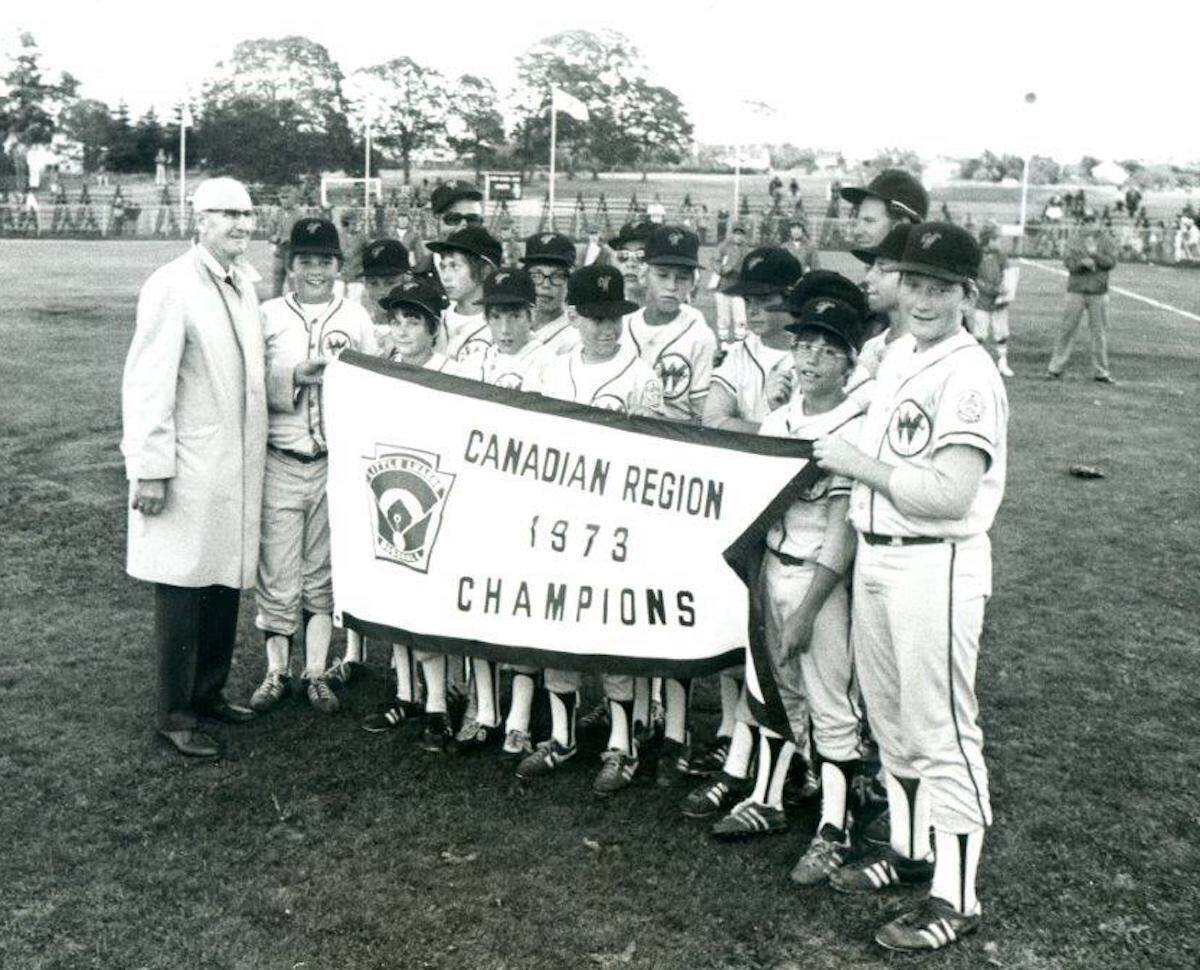 The 48-page 2023 Whalley season program includes a "Where are they now?" feature about a few of the players, and chronicles the 1973 games.
In Williamsport that August, the Whalley all-stars lost their opener 11-2 but later shutout Germany and Mexico in that year's eight-team, double-knockout tournament.
"We lost to Tampa in the first game, then we ended up placing fifth, so we were kinda first-place losers," Scramstad recalled.
"When we were there, that was the biggest stadium any of us had played in, and it was pretty neat seeing all the players and people from around the world. They seemed to give us 12-year-olds a lot of respect."
Stu Finley was also on the '73 team and returned to Williamsport in 2006 to watch son Greg play at the same Little League tournament.
"We were just a bunch of kids who liked to play ball," Stu told Surrey Now reporter Michael Booth in 2006. "Right from the first day of the districts we were singing, 'Pennsylvania here we come.' So we were kind of a revved up bunch."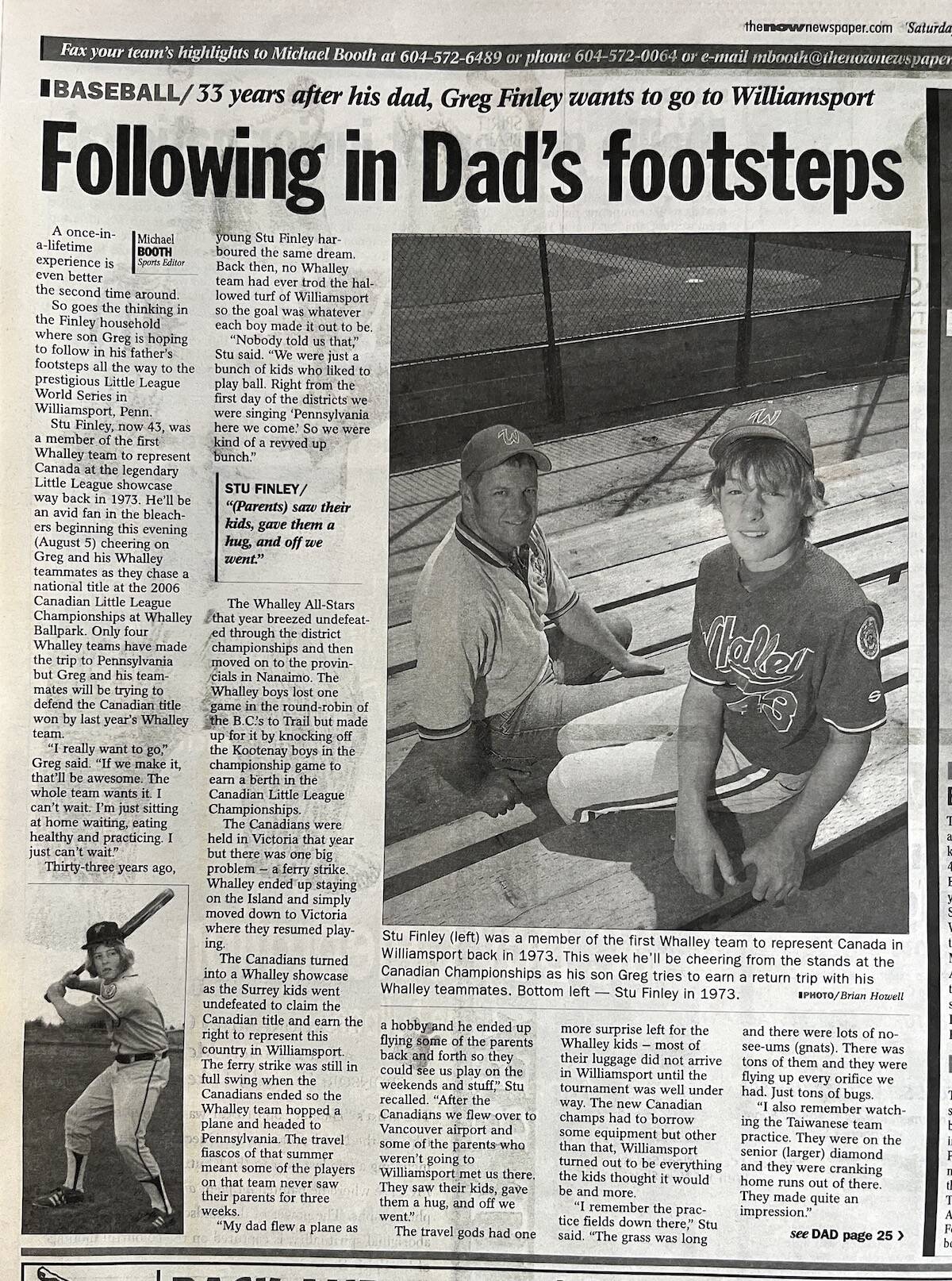 Nationals were held in Victoria that year, and a ferry strike forced the Canadian champs from Whalley to hop a couple of planes to Williamsport. Some of the players on the team didn't see their parents for three weeks.
"My dad flew a plane as a hobby," Finley said in 2006, "and he ended up flying some of the parents back and forth so they could see us play on the weekends and stuff. After the Canadians we flew over to Vancouver airport and some of the parents who weren't going to Williamsport met us there. They saw their kids, gave them a hug and off we went."
The manager of the 1973 team, Orest Springenatic, is now a Whalley baseball legend. His son Dennis played on the 1978 team that went to Williamsport.
"I didn't go on the trip with him (in 1973) but I was there five years later," recalled Springenatic, now coaching a Whalley Chiefs team. "I have all the newspaper clippings he kept, and my dad, he had a camera and shot all this footage. He was into it and I just put it all on a USB, so there's stuff when my parents lived in Boston Bar, from the Little League days here when I played, stuff I remember being at but not seeing any video of it."
The summer of '78 was memorable for the Springenatics.
"I remember the whole trip, which was great," Dennis said. "It was a campground setting, pretty much, and each team had their own building there, with a pool and a ping-pong table and a huge cafeteria, a basketball court, and it was a five-minute walk to the stadium where the games were played. For a 12-year-old with those huge bleachers, it was big. I pitched the first game against Taiwan and we lost 12-nothing and the place was packed, probably 10,000 people. I mean, I definitely remember that. It was great."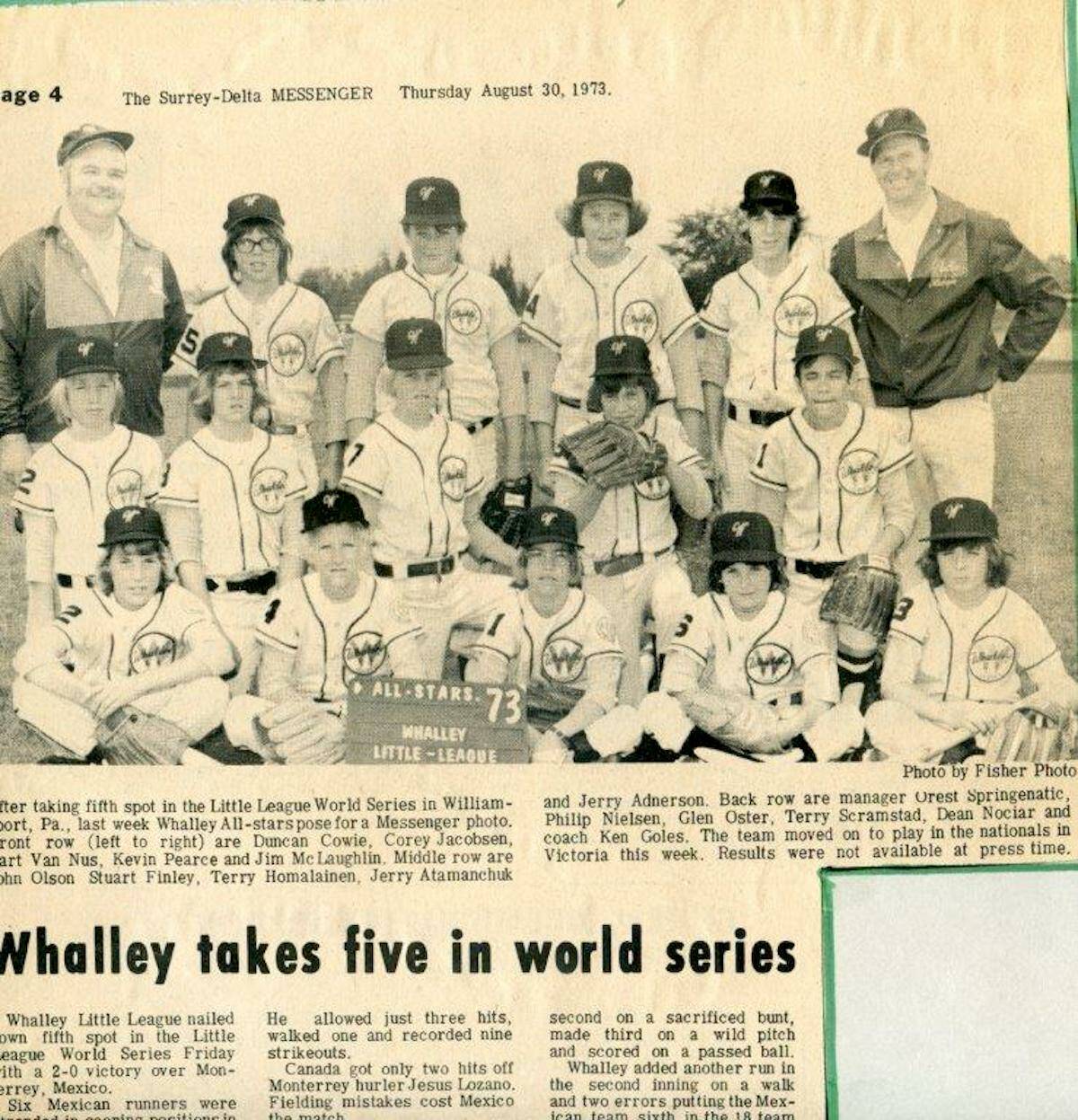 At Whalley Athletic Park, the 2023 Ed Myers Alumni Game will be played at 6:30 p.m. June 9 in the Senior Diamond. Details are posted on whalleylittleleague.com.
The game salutes Myers, a longtime Whalley volunteer who died in January 2022. From 1982 to 2018, he coached more than 36 teams in regular-season games, playoffs and tournaments, was equipment manager for 29 years and Whalley board member for 37.
Whalley Little League history stretches back 67 years.
"With the 50th anniversary (of the 1973 team), it was collaborative idea to try to engage the alumni," explained Gavin Burke, president of the baseball club since 2012.
"We have such a storied history and we want to celebrate the players of our past, the alumni, and welcome them back, so hopefully the engage and stay involved in the club, to coach and volunteer for tournaments, work on the fields."
Burke's son Steven played on the 2006 team in Williamsport.
"That was first time there for me," Burke said. "It was a great experience for a dad and a fan, it's so welcoming and they treat the kids like Major Leaguers for a week and a half, with TV interviews and autographs, all that."
Such history makes Burke proud of Whalley, where baseball has changed over the years.
"We've struggled in recent years with the demographics and keeping members, but our registrations are back up this year, we're sitting at about 370, up by around 70 players this year. We're hoping that demographics are going to swing back our way and get the membership numbers back to where they were."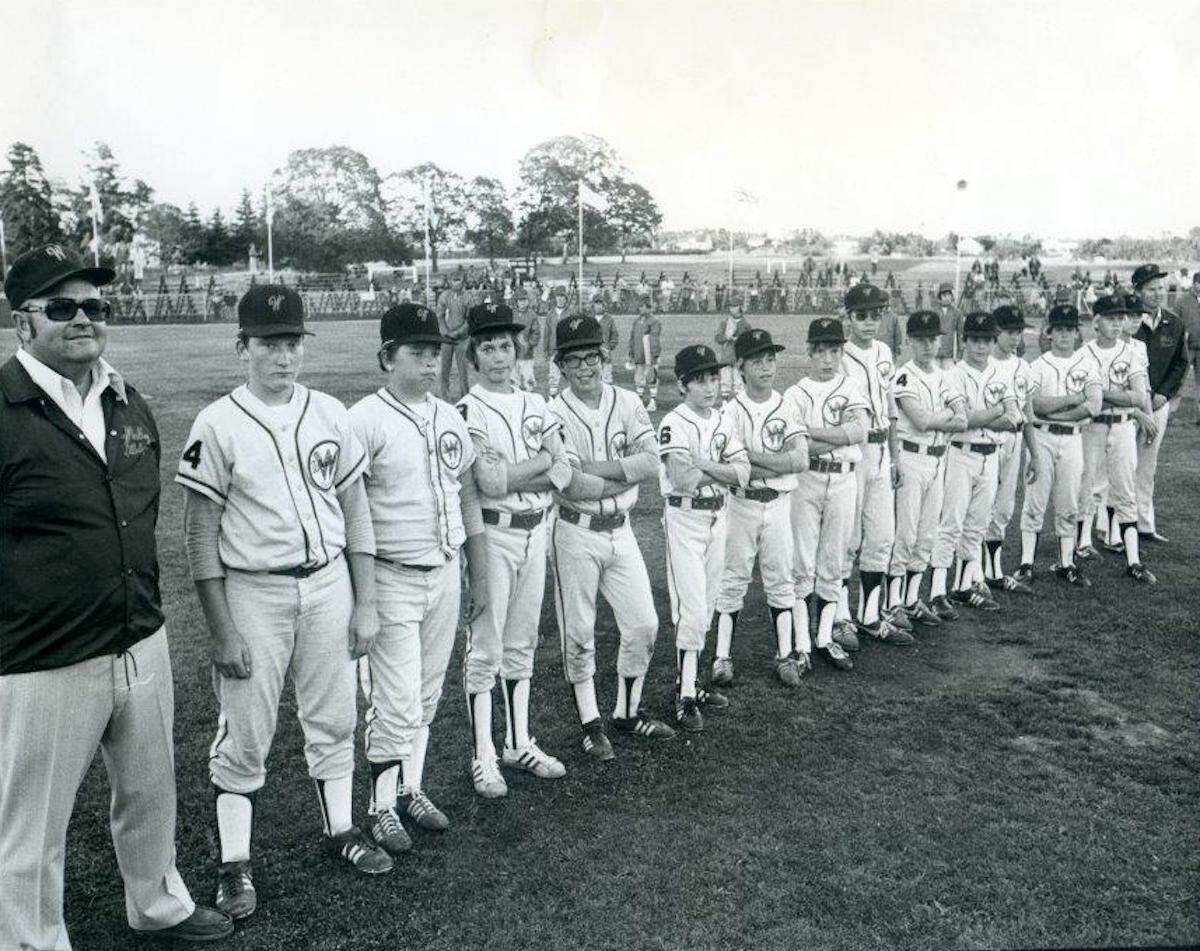 To raise funds, Whalley is hosting another Bat-A-Thon on June 3, with batting and field events for the young players. So far close to $33,000 has been raised by teams and individuals, including top-three fundraisers Aaron Kainth, Jozef Young and Kaleb Ganny.
Last year's Bat-A-Thon collected $61,614 in donations, most in the event's five-year history. Details are found online, wllbatathon.com.
"Since 1956 Whalley Little League has been providing life lessons through team sport and helping to realize the dreams of our youth," a webpost says. "Successful programs need the assistance of our community and friends. Your support goes directly to equipment and other costs of running our league. With more players this year, let's try to beat last year's goal!"
---

tom.zillich@surreynowleader.com
Like us on Facebook Follow us on Instagram and follow Tom on Twitter