To start the current Pacific Junior Hockey League season, Surrey Knights' goals included making the playoffs with a team of mostly rookies and some raw talent.
Mission accomplished for the Andy Liboiron-coached squad, who this week will get a taste of playoffs for the first time since the franchise moved to Surrey seven seasons ago.
The long-suffering Knights have had a tough time winning games since moving from Langley for the 2016-17 season, including an 89-game losing streak, so a trip to the playoffs really is worth celebrating.
With the PJHL's new best-of-three "Survivor Series" format, the Knights will face Chilliwack Jets starting Thursday night at North Surrey Sport & Ice Complex (Feb. 16, 7 p.m. faceoff), followed by two games at Sardis Sports Complex, Saturday (Feb. 18) and, if necessary, Sunday (Feb. 19).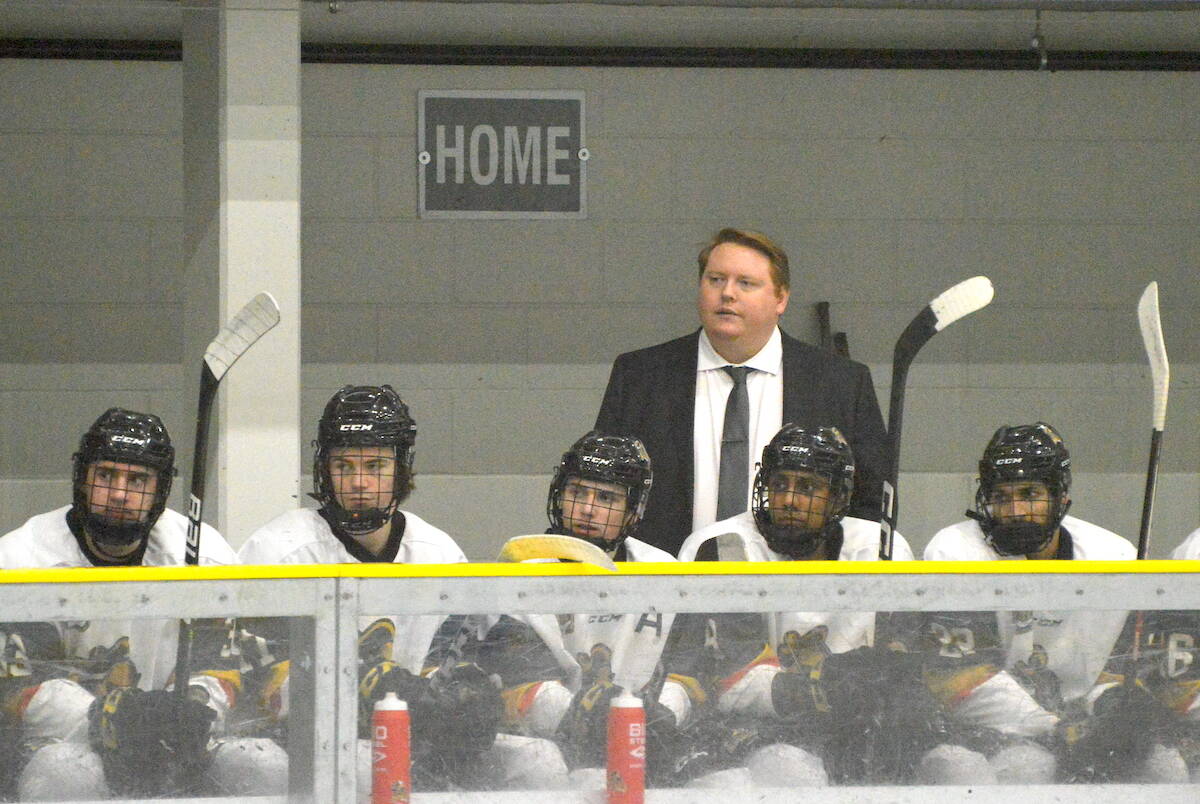 After the regular season wrapped Sunday (Feb. 12), the Knights finished fifth in the league's seven-team Harold Brittain Conference with 12 wins in 48 games, good for 28 points, six clear of Aldergrove Kodiaks.
The fourth-place Jets finished with 48 points, 20 atop Surrey in the standings, but anything can happen in playoffs.
"We've been getting ready for the possibility of playoff hockey for a few weeks now," Liboiron revealed a few days after the Knights clinched a post-season berth.
"Kudos to the guys for making it happen and working so hard," the second-year coach added. "It's been a resilient group, with lots of highs and lows this season, for sure, and also some great learning lessons for the young team we have here, which has lots of promise not only for the playoffs for years to come. I think we have the youngest average age this season."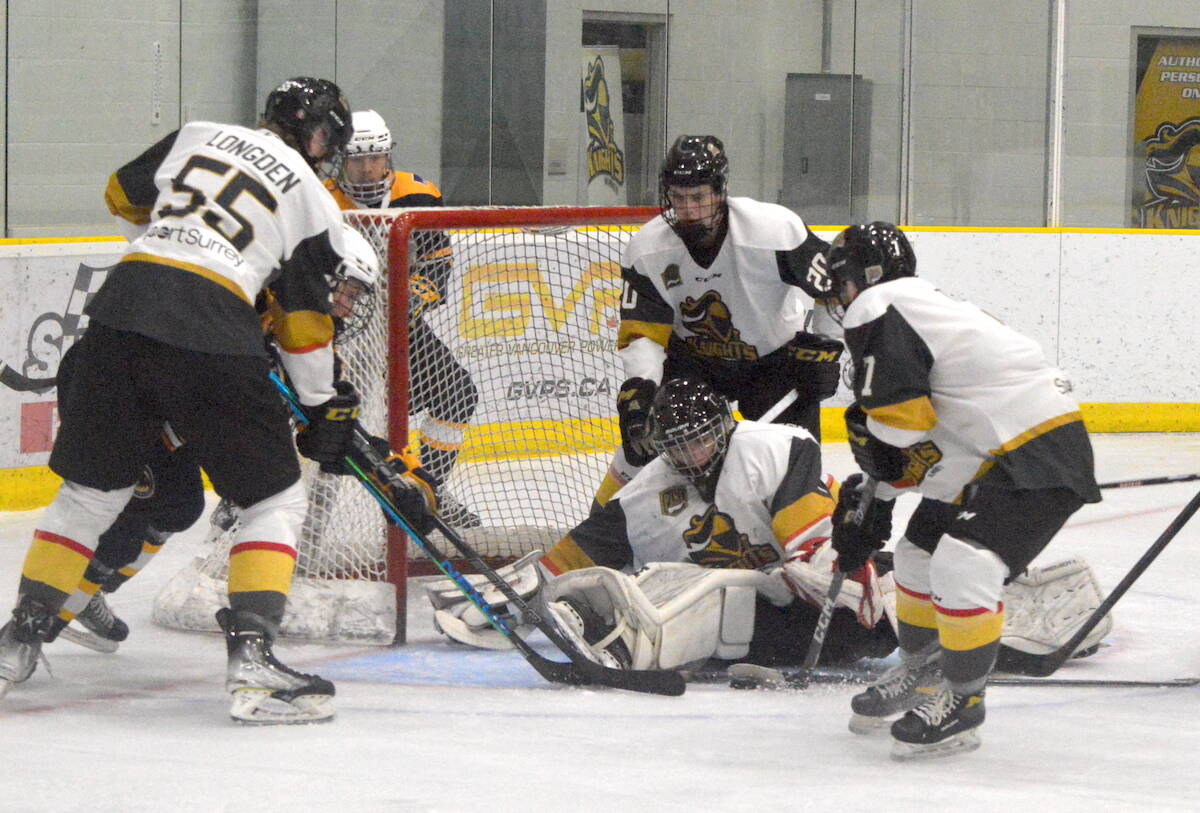 Captain Brad Collins, a rugged 20-year-old, is the lone Knights player in his final season of junior hockey, and has formed a feared duo on D with the 2006-born Ben Filippone.
"Brad's been with the team for six years — he played a couple games as a 15-year-old, so this is a special thing for him to finally make the playoffs in his final year," Liboiron noted.
On the scoresheet, forward Jake Thompson led the way this season with 20 goals and 42 points, followed by Robbie Toor (33 points) and Parkor Sarai (32). In net, goaltenders DJ Cash, rookie Maddox Osaka and Mason Upton have shared the crease to record a combined 0.890 save percentage.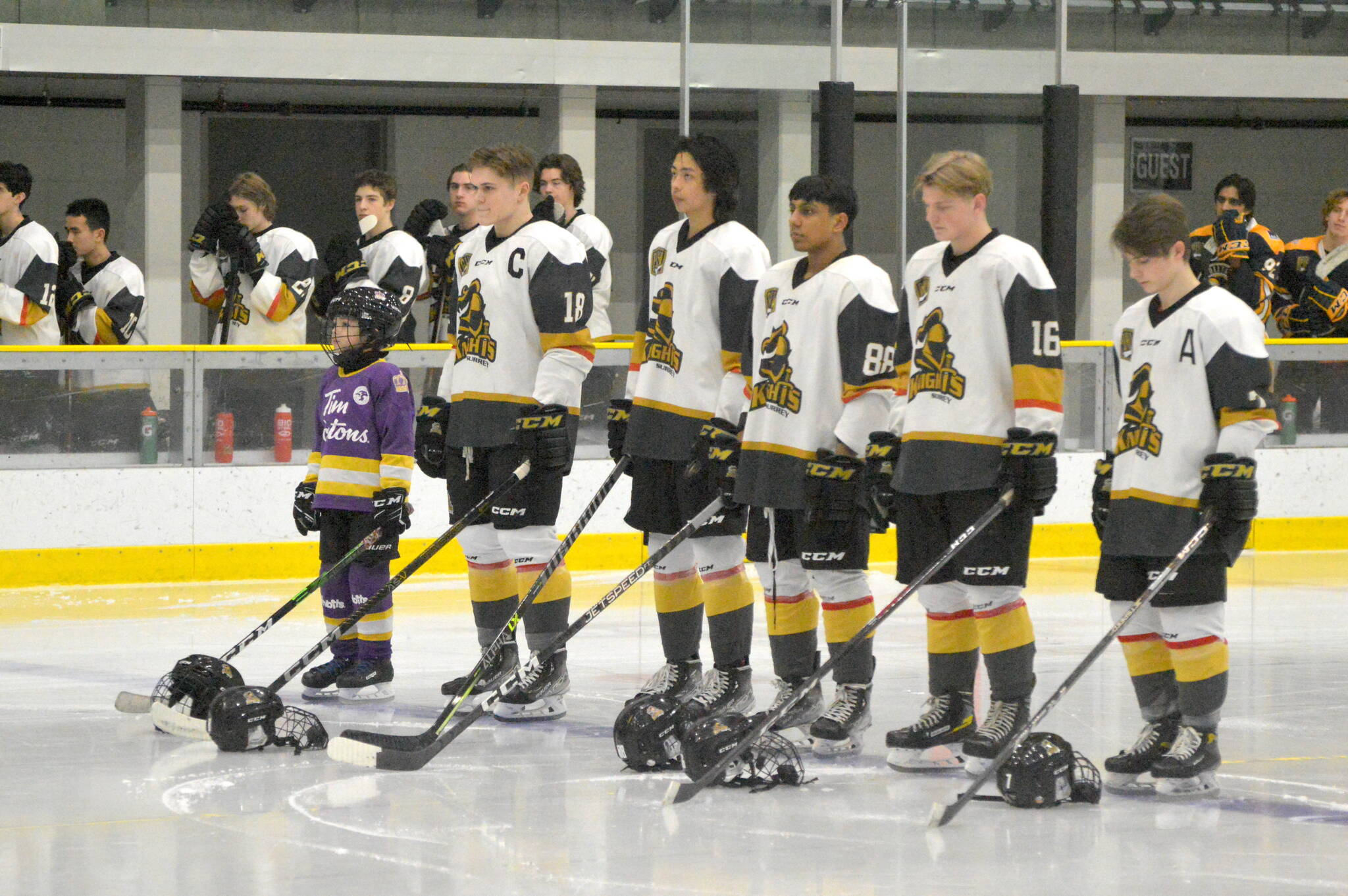 The Knights last won a game more than a month ago, Jan. 12 over Abbotsford, 2-1, at North Surrey Sport & Ice Complex, and have a couple shootout losses in recent weeks.
In four games against Chilliwack this season, Surrey lost 6-4 on Jan. 26, 4-2 in Sardis to open the season Sept. 11, and 7-1 at home on Nov. 24. In mid-December the Knights went into Chilliwack and beat the Jets 7-4.
"We had three close games against them this year and came out on top in one of them," Liboiron elaborated. "They are a strong team with some really good players on the roster, so it'll be a tough task for our guys. We'll be prepared and will stick to what's got us here, just working hard and playing the right way. The guys are confident and excited and just itching to get to Thursday at this point, get it started."
The winner of the Knights-Jets series will then have their hands full in the best-of-seven conference semifinal against the league-leading Langley Trappers, who look to repeat as Stonehouse Cup champions of the PJHL and also Cyclone Taylor Cup provincial champs of junior 'B' hockey.
"We've heard that Chilliwack is already planning for their series against Langley, so that adds a little fuel to our fire for the guys," Liboiron said. "It's going to be a good experience for our guys, regardless of the result. We did have the goal to make the playoffs, and now that goal's been reached, the nice thing is you can set new goals, and that's winning a playoff series and making it to Langley."
The coach welcomes the PJHL's new "Survivor Series" round to open the playoffs.
"I think it's a great thing the league is doing, giving two more teams the opportunity to play meaningful games to start the playoffs," Liboiron said. "It's really good for the league itself but also for the kids, because the more meaning games they can play, the better for their development. It gives them the experience to play in a high-emotion, high-intensity game, so it's exciting stuff."
The Pacific Junior Hockey League franchise secured a post-season berth Feb. 7 when conference rival Aldergrove Kodiaks lost 7-3 to Delta Ice Hawks in Ladner.
The franchise has never won the PJHL championship, dating back to 1999 when it started out as Queen's Park Pirates. The team played home games in North Delta from 2003 to 2014 (first as the Flyers, then Devils) before moving to Langley for two seasons as the Knights, followed by their move to North Surrey.
• Elsewhere in the PJHL, the playoffs will involve both White Rock Whalers and Delta Ice Hawks, who'll have to wait nearly a week to get started.
The Whalers finished third in the Tom Shaw Conference with 62 points, five back of Richmond Sockeyes. The teams will now meet in a best-of-seven series, with the schedule to come following a pair of PJHL "Survivor Series" rounds (Surrey/Chilliwack, Grandview/North Vancouver).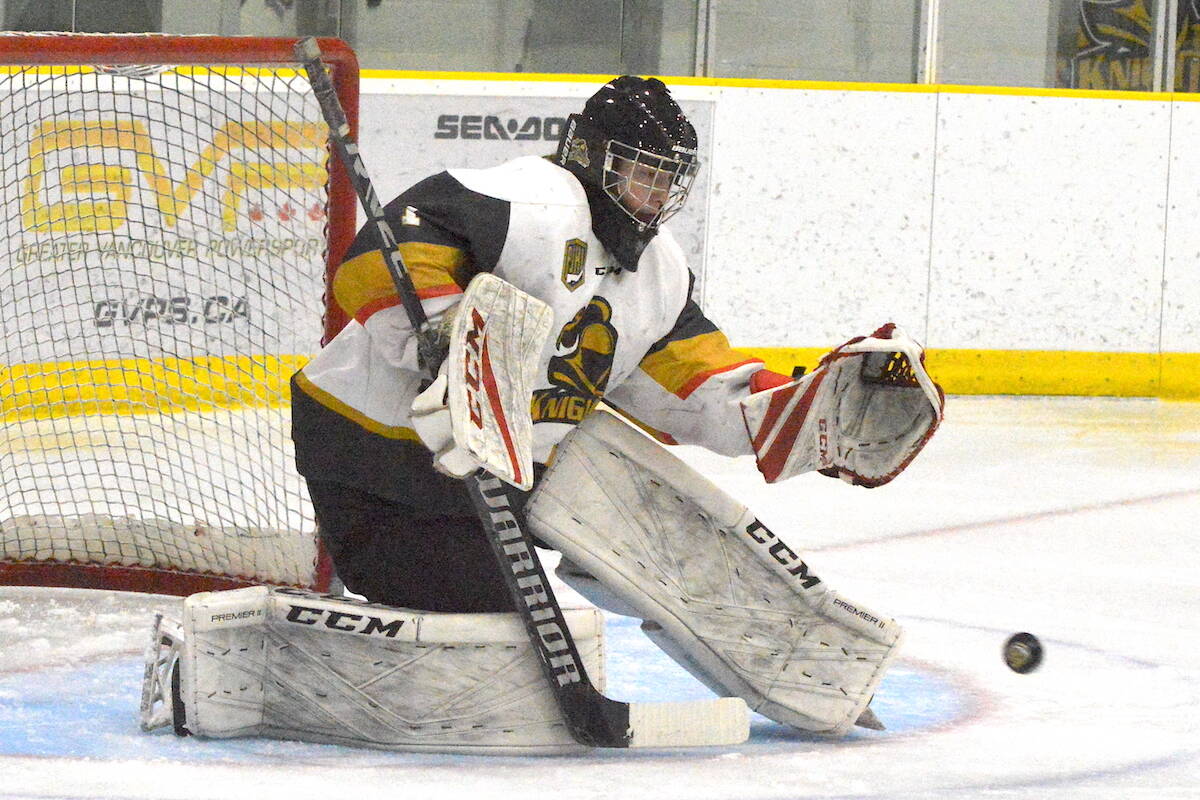 This season the Whalers earned a franchise-high 30 wins with a veteran group that includes eight graduating players who'll "age out" next season (Bryce Margetson, Davey Moody, Zach Sherwin, Jacob Dorohoy, Chris Fortems, Cam Newson, Braydon Clark and Cole Svendson).
Meantime, Delta Ice Hawks scored first place in the Tom Shaw Conference with 70 points, and led the league in most goals scored (256) and also fewest goals allowed (110). In the playoff the Hawks will face the winner of the Grandview/North Van survivor series.
Last week the Ice Hawks filed an appeal with BC Hockey over a league ruling that saw the team forfeit four games for having an "ineligible" player on its roster.
If the appeal is successful and the eight points are returned to Delta for those four wins, the team would leapfrog Langley Trappers in the regular-season standings to take first place for 2022-23, with 78 points to Langley's 76. A decision from the league is expected this week.
---

tom.zillich@surreynowleader.com
Like us on Facebook Follow us on Instagram and follow Tom on Twitter