The spotlight is about to shine a little brighter on Surrey's Buneet Bisla, whose next fight will be in the place widely hailed as "the mecca of boxing": Madison Square Garden in New York City.
The Manhattan venue's 5,600-seat theatre is where Bisla will battle American opponent Khalil Coe on Saturday, June 24, on a Matchroom-promoted card featuring main-event fighters Edgar Berlanga and Jason Quigley.
For Bisla, the light-heavyweight bout (175 lbs.) with Coe is a big step forward in a boxing career that was stalled by COVID-19.
The Newton-raised boxer turned pro in 2019, a year before the pandemic shut down everything, and he's gone 7-and-0 since then, with three knockouts.
"It was tough, and I got stuck for a year and a half with no fights," Bisla recalled. "We had to wait, and we'd hear of a possible fight, then nothing. It sucked, and then we saw (boxers) in the States and Mexico, where the rules were looser, they were fighting. But we got through it."
This month's fight at MSG will be Bisla's first outside Canada, and his first trip to New York.
"But for me, every rink is the same, I'm going there to do the one thing, focus on what's in front of me," Bisla said confidently. "The arena and everything, I'll look at that after because the main thing is to stay focused and get the job done."
Bisla trains at his family's Bisla Martial Arts gym under the watchful eye of father Inder Bisla, along with younger brother Gavin, 22, and other boxers.
No question, boxing has long been a passion for the Bisla family, with Inder as the guiding light.
"He's my father and my coach, and he gave us everything, every resource, to excel in what we're doing right now," Buneet said of his father. "For me, the path was paved, and he paved it for me. He made sure nothing would get in the way of it. Now here we are, I'm 25 years old and I'm going to Madison Square Garden."
Buneet's last fight was the main event May 12 during Bisla Fight Night 10 at Newton's Taj Park Convention Centre, filled to capacity for his majority-decision win over Mexico's Fernando Galvan. The bout was long-anticipated, as Bisla's last fight on home turf was in 2017, when he was still an amateur.
CLICK HERE to watch Bisla Fight Night 10 on Youtube.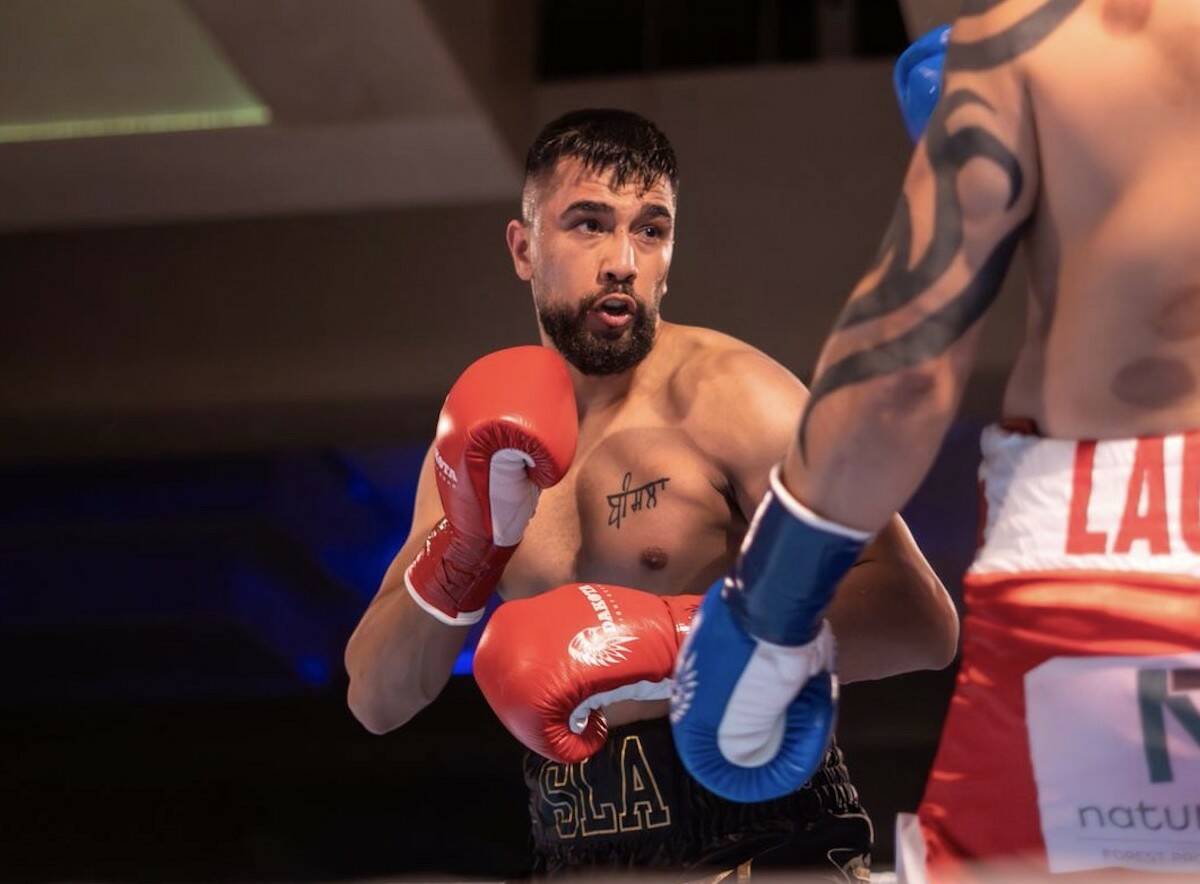 "It's motivating to be in front of a home crowd like that," Bisla confirmed. "I don't get nerves, and maybe that's from being around the older fighters when I was younger, watching them, the whole process. Some people don't do good under pressure but for me, I feed off that energy. I had a fight during COVID and there was no crowd. I ended up finishing my opponent but it was in the last round, and I felt like if the crowd was there I could have finished him earlier."
There's that 'C' word again, which also came up on the topic of Bisla's boxing timeline for a possible title shot one day.
"The green belt of WBC, that's what everyone wants, that's the goal," he said, "and there are other belts, too. Being undisputed, that's the goal. It's just one step at a time.
"Before COVID," he continued, witout missing a beat, "I was thinking it (a title shot) would be right now in my life, 25, 26 years old, but it (COVID) definitely did get in the way of that. So now it's maybe 28 or 29 for me, I should be there. That's prime age, and it has to be before 32, because you want to be challenging, contending for world titles around 28 to 32."
If Bisla wins at MSG he figures he'll have a shot at being signed by Eddie Hearn's Matchroom Boxing, one of the sports's biggest promoters right now.
The hallowed arena is a long way from Queen Elizabeth Secondary and Bisla's days of learning the ropes at his family's boxing gym and playing street hockey in the neighbourhood cul-de-sac.
"At one point I thought I was going to play in the NHL, but I never did play ice hockey," he recalled with a laugh. "It was the dream but I thought, you know what, I'll stick to fighting."
For added motivation these days, a tattoo on Bisla's left chest shows his last name written by his grandmother, who died in 2019, the year he turned pro.
"I'm training two times a day, six days a week, two hours per session," Bisla revealed. "This is probably the hardest I've ever trained, and it (a fight at MSG) gives me motivation, that extra push. It's Madison Square Garden, you know, I better train harder for this."
---

tom.zillich@surreynowleader.com
Like us on Facebook Follow us on Instagram and follow Tom on Twitter