Police are investigating a shooting and a stabbing in Whalley Sunday night that happened within three blocks and two hours apart.
Investigators do not believe they were connected.
A 24-year-old man – whom police say was stabbed two weeks ago on SkyTrain in Surrey – was once again stabbed near the District 1 police station, in the area of Bentley Road and King George Boulevard, at about 6 p.m. He was taken to hospital with life-threatening injuries.
"Based on initial information it appears that multiple male suspects arrived in a taxi and confronted the victim who was subsequently stabbed. Although the motive of this incident is unknown, the victim appears to have been targeted and was previously stabbed two weeks ago (April 15) in an incident onboard a Skytrain travelling through Surrey," Cpl. Vanessa Munn of the Surrey RCMP said Monday.
She wouldn't say if investigators think the two stabbings are connected.
"The investigation is in the early stages and that has yet to be determined," she said.
Munn said Transit Police have conduct of the earlier stabbing investigation, in which a Burnaby man was charged last week.
"So I wouldn't be able to speak to that aspect of it," she said Monday. "We are currently investigating the stabbing that occurred last night and working to determine what the motive was and all the circumstances surrounding it."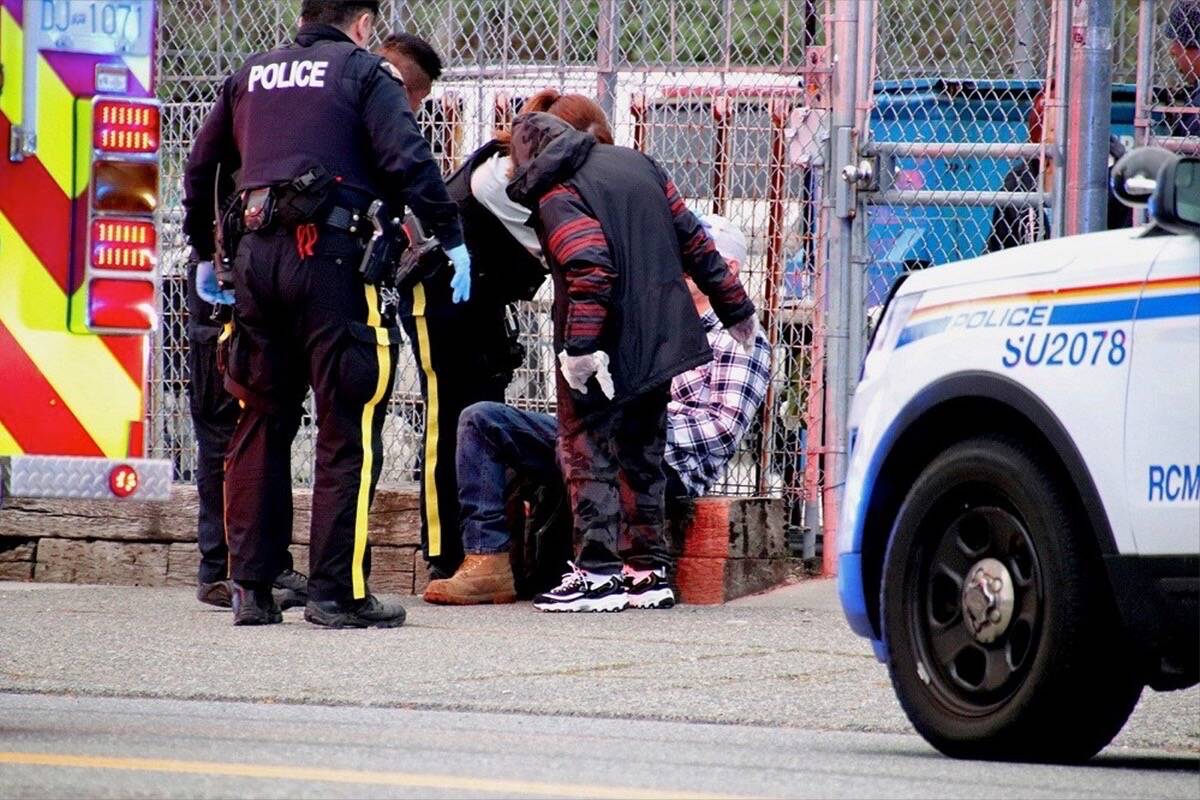 Meantime, two hours later on Sunday night, a 36-year-old man was taken to hospital with serious injuries after he was shot in the 10700-block of City Parkway.
"At this stage in both investigations, the two incidents do not appear related to each other beyond close timing and proximity," Munn said.
The shooting victim's injuries were not considered to be life-threatening.
"Three male suspects were seen fleeing the area on foot, but despite police efforts, were not located. The motive for the shooting has yet to be determined, however the victim is known to police," Munn said.
"Surrey RCMP General Investigation Unit has conduct of both investigations and are actively speaking with witnesses and canvasing for video surveillance. There are no indications that either incident has links to the BC Gang Conflict."
Police ask anyone with information about either crime to contact the Surrey RCMP at 604-599-0502.
Man shot in Whalley on Sunday night. Video by Shane MacKichan. https://t.co/7ZwpS07Yfn

— Tom Zytaruk (@tomzytaruk) May 1, 2023
Stabbing in Whalley 6 p.m. Sunday near District 1 police station. Video by Shane MacKichan. https://t.co/ID2r7fKKpX

— Tom Zytaruk (@tomzytaruk) May 1, 2023
---

tom.zytaruk@surreynowleader.com
Like us on Facebook Follow us on Instagram and follow Tom on Twitter